First, we watched a video about how our ears receive sound waves. The children had learned already about the 5 senses so we asked ourselves: which of these senses do artists use? Then the students closed their eyes and listened while I made sounds with different items. We tried to draw those sounds using different types of lines. Then we sat outside and listened to the sounds we heard: birds, planes, cars and trucks, helicopters, children playing, footsteps.
In the second class we talked about the idea of things that happen "earlier" and "later" and spoke about activities we do in these periods. We tried to remember and predict "earlier" and "later" activities and to draw them.
Below are selected artworks from KG2E.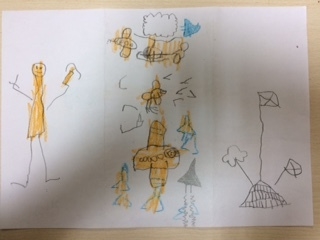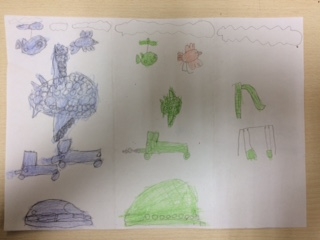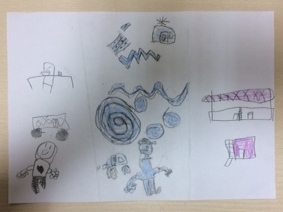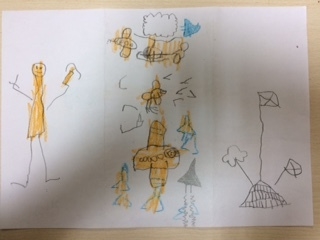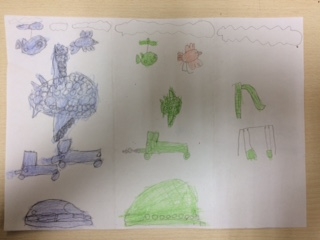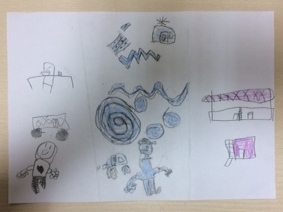 The kids found listening to the sounds outside really fun. Sometimes it was hard to remain quiet and just listen but then we enjoyed the process. What did your kids think about it? Was it challenging? Trying to draw the things that makes sounds from earlier and later periods was a bit tougher for us but we liked thinking about all the things we do outside of school. We drew things like brushing our teeth, playing, eating, and driving in our cars. In Dubai we have to do a lot of driving because the city is big and spread out. We also have big high ways.
What is it like in Helsinki? What animals live there? Do you walk, or take buses or trains to school? What is the weather like? We can sit outside now in shorts and t-shirts in Dubai but soon it will be too hot.
KG2E class from Collegiate American School in Dubai, United Arab Emirates are making and sharing art with the Tigers from Your School in Espoo, Finland. KG2D are making and sharing art with the Monkeys. The young artists are 4-6 years old.
Below are selected artworks from KG2D.